Dungeon Dummies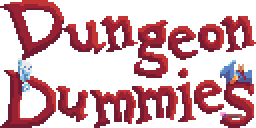 Puzzle dungeon delving game with adorable dummies!

Ludum Dare 50: https://ldjam.com/events/ludum-dare/50/dungeon-dummies
Explore depths of a forgotten castle with a team of mischiefs. Brash and unpatient warrior leads the way, while the wizard is too curious about her surroundings up to a fault. Oh and don't even get me started about the greediest thief you have ever seen. Can you make sure that nothing bad happens to them?